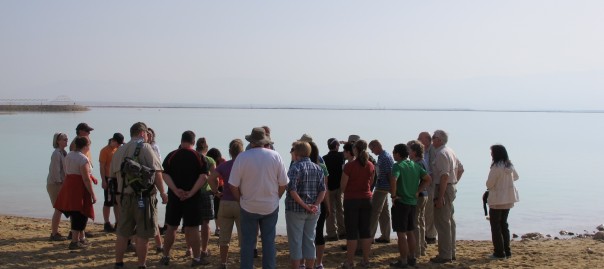 Day 5 – Such a Gift Mar 22
Our day began at the shore of the Salt Sea, in prayer, and moved quickly to spirit-filled "aha" moments as we read from the text at the place of text, Qumran.  Upon departing Qumran, we headed North for the sea of Galilee, and the opportunity of a mountaintop experience upon Mount Arbel.
Little did we know that another mountaintop experience awaited before we reached the summit.
Our friend Liliana had this to share about that experience.
"Today we arrived at Mt Arbel.  Being in this place, seeing this place, and now, knowing this place brings a glimpse of something indescribable.  Visually, we can describe what we see.  Spiritually? Indescribable.  It is so difficult to put into words.  To be able to see, feel, touch and walk as our Savior did.  As we climbed up the mountain, with much help from friends, and to know, to see, to feel, to realize that my savior was climbing up and down this very path.  In this very place.
"We stopped at a cave that was full – centuries thick – of layers of manure.  Standing outside it seemed so dark inside.  As we moved inside, Marty shared with us that Jesus was born in a cave just like this one.  It wasn't just a cave, it was a stable. Listen in on what he said.
"While listening to him teach, my question to my Father was, why?  Why would you allow your precious son to be born in a place like this?  What kind of father would allow that?  Why, why, why?!  How much love would a father have for us that he would sacrifice His son.  In our humanity we will never understand, cannot comprehend, the magnanimity, the extent, of His grace.  I can only imagine Mary caring for that child, giving birth in darkness and the filthiness of this world.  We want to describe Gods love, but that agape love is indescribable.  Especially here, in this place.
"God's word says that He gave his only begotten Son because he loves us.  How can we return his love?  How can we say we love you?  The amazing thing is that God never asked us for anything in return or to pay him back.  The only thing we can do is accept His Son, the one who left His glory, the one who left the throne and left His kingdom to come as our Savior.
"After we finished the lesson, we lifted up our voices and sang together. Listen in on what we sang. I couldn't even sing because every word was like a spear in my heart and I didn't know if it was from joy or if my heart was broken because I felt so unworthy that He had to pay the price for my sin.
"I can see today through the struggles of the climbing, the entering of a dark filthy cave and the fear that all these things bring and I know that the savior and the light was born.
Liliana Segura Abraham
The devere, or stable, upon Mount Arbel.
The Hebrew word for stable, devere,  is also the same word used to describe the "holy of holies."
And, appropriately, we ended our day where Jesus prayed.  In view of the Galilee.  In view of where Jesus' ministry took place.  In view of the wonder of His grace.  From the devere within the mountain, to the devere upon the moutaintop.
Praise God for such a gift.
Audio from this day
Marty O'Connor – No Room at the Inn
Recording of us all singing
Today's Photos