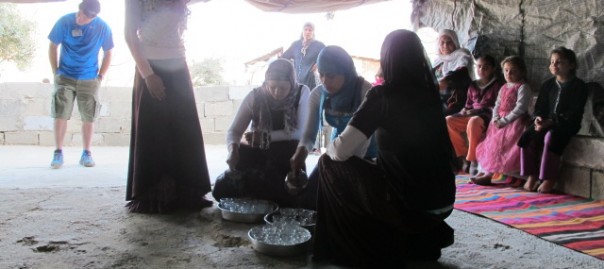 Day 4 – Unexpected Hospitality Mar 21
Have you ever gone on a spring walk to explore your surroundings?  I bet you found many neat and    unusual sightings along the way .  Would you allow me to describe my experience for my spring outing today?  Before I start I must make a disclaimer.  My spring excursion was in the village of Arad. A small village in an Arab community in Israel.
My excursion started with a Biblical teaching by Marty O'Connor on the true meaning of Christian hospitality.  He explained the Bedouin culture and the traditional way of showing hospitality.  He brought his lesson to life by asking an Arab Bedouin woman if we may visit her home.  Now I must tell you there were about 32 people in our party and this gracious woman was as hospitable as any polished lady of society.  She gathered her family in less than 20 minutes, made the traditional drink for visitors of very sweet tea and had her daughters and daughters-law serve her drop-in guests of 32 with a smile as broad and welcoming as one would get when visiting a long lost relative.  All the children ran with excitement to see their America guests.  All wanting to show us their world.  All wanting to mingle and be part of their visiting new friends.  The children watching all around us as the matriarch of this fine Arab family put on their best for us.  The children being taught the Bedouin way of hospitality for when it will be their turn follow in their grandmothers footsteps. Already amazed at the unexpected, the next big unexpected event happened….out came a portable fire pit and a fire was started and unleavened bread was beginning to be bake so we would have hot bread.  All this was done with joy and pleasure making us their guests so welcomed.
My biggest joy was the children.  I asked to hold a small infant of about 3 months. What a joy!  Then looking up I was surrounded by 5 to 8 other children.  I could not help but want to caress and give them all a kiss as is my American way.  With permission from all the moms I was allowed to "lay one on them".  What an experience to be blessed with the gift of receiving more than you are giving.  Each child was so ecstatic about learning the art of "kissing".  They would return and return for more kisses on the cheek.  One particular girl of about 9 asked for 5 kisses and I was more than willing to oblige.  Leaving that small family of about 5 adult woman, 10 girls and boys of varying ages and numerous infants  was an emotional departure for me.  God had opened Israel, the land of His people, to me an uninvited American and His people made me feel more welcomed and invited than I have been even in my own family of origin.  As I gave up my little 3 month infant back to his mother, I kissed him one last time and silently prayed a blessing on him.  I know not why I did this.  It is not a customary habit of mine to do this and in fact I don't remember when I ever have done it.  But, His gift, His Spirit, that leading was so strong that I felt I must.  I must give this family a "Shakram" (thank you)  that was from my heart .  The best way I knew to do this was to wish the blessings of God upon them.
As my day ends and I think of this family I cannot help but wonder, would I have welcomed this family into my home on about a 20 minute notice without grumbling and serve them the best I had to offer as they had done to us; the uninvited American guests.  I only hope that I would have but I know that because of their hospitality my hospitality will be much improved.  Shalom and Shakram my new Bedouin friends.
Susan Berlin
Audio from this day
Nadav Salt Sea
Today's Photos