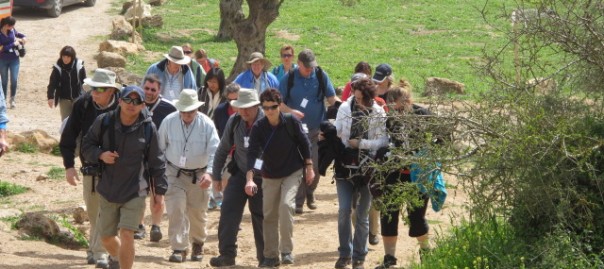 Day 3 – Skills and Promises Mar 20
Day at a Glance:Â 
Tel Azekah – Key city blocking Philistines from conquering Jerusalem & area where Saul's armies met Philistines, Goliath threatened the armies twice daily & David killed Goliath.
Caves of Addulum – Where David fled for refuge after he pretended to be crazy in Gath (Philistine capital) and later also hid from Saul.
Bet Guvriem – Area given to Caleb by Joshua (Moresha), destroyed by Sennacherib in 701 B.C., became capitol of Idumeans (Herod the Great's parents from here).
Lachish – Considered the 2nd most important city of the Southern Empire. It enters the biblical narrative in the battle accounts of Joshua, Sennacherib and Nebuchadnezzar.
Group overlooking the Elah Valley where David killed Goliath
My Challenge from Today's Sites:
While each site carries its own stories and history and biblical lessons, the story of David always encourages me. While we looked down on the valley of Elah where the Philistines camped in the hills of one side and Saul's armies hid in the caves on the other, I could almost picture the scene. A young shepherd boy, 10-14 years of age, comes to the Valley to visit his brothers who are in Saul's army in a life-or-death struggle for Israel to defend their land from a very powerful Philistine army. The odds are stacked against Israel, but David heard Goliath taunting Israel and he can't stand seeing Israel's army hiding in caves in fear. David's mind must have returned to the stories he heard of the spies saying that there were giants in the land that made them look like grasshoppers. Ten spies said they couldn't take the land against those odds, 2 of the spies said that the Lord would fight the battle for Israel.
The writer of this story communicates in many ways that the knowledge of the text, the land and the culture help clarify for me. First, Goliath is described with 2 number 6's, for the Bible student, this is the number of man. He is also described as armor with scales, like the serpent in the Garden (1st Samuel 17:4-7). David is described with all the characteristics of weakness: a young boy, a shepherd (no warrior experience), couldn't hold up armor, much less wear it. But David took what he had and used it to destroy Goliath. David gathered 5 stones, we aren't told why except later the text says that Goliath had 4 brothers too.
I noticed that David had strong confidence in his own ability and in the promises of God. It seems that Christians either trust totally in God and take no responsibility for developing their own talents, or they rely on their own talents and try to live life without any need for God. Rare, for me, to balance both a strong trust in God's promises with a strong personal confidence in the abilities that I have developed and practiced. What are my small-smooth stones that God calls into battle? What are God's promies I must claim to believe that He can and will use me? I trust in myself, but my skill without God's power can conquor what I alone can handle. But my skill together with a trust in God's promises, makes a great King.
As the group wandered through the Brook of Elah, where David gathered their smooth stone, I thought about my talent as significant as that small smooth stone, but with God's promise, I can take down the giants attacking my life and God's calling to love my family, serve His church, and reach the world.
Our team then gathered around those asking for prayer for the giants causing them fear to keep them from trusting God's promises. The story of David and Goliath is a powerful event that reminds me to carry on with God's calling, with a belief in God's promises to take my small, smooth stone and take down the giants with it.
Tim Weidlich
Growth Pastor
Today's Photos