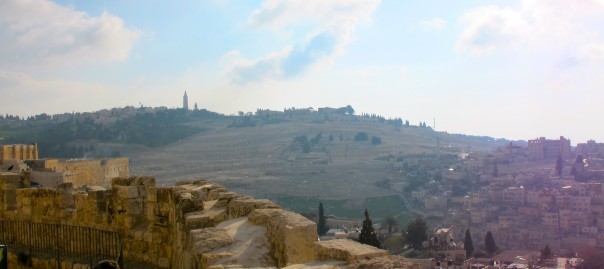 Day 10 – We Are Reminded Mar 27
Friends.  As we near our last day we are reminded of how much we have yet to learn, and yearn, for His word upon our hearts.  I am reminded of Jer 33:3, and hear God's very promise to provide us wisdom as we continue to search for His word.
In the sharing below, Liz speaks of how we have grown in community.  As we left the Temple Mount this morning, we made our way to St. Anne's Church and sang in community.  You can hear us here.
And, as we left the basilica, we continued to the Bethesda Pool, where we gathered in our small family groups to pray for healing for our families and friends, gathered together at this sacred place.  Liz shares more…
"Yesterday we made aliyah (ascending) to Jerusalem! Today we spent the entire day here, and lucky for us, our hotel is inside the Old City walls. Oh what a beautiful place the "City of Peace" is in the springtime! Green grass everywhere, colorful flowers dot the landscape every place you look.
Our group has formed such a community. In a way, that community reminds me of our surroundings, bright, fresh, and hopeful. Each of us has arrived to visit "The House" with a new personal determination. My prayer is that the breathtaking state City of Peace is in now, is reflective of our personal life.
We visited the Temple Mount. I tried, in my minds eye, to remove all the current buildings and replace them with Solomon's and Herod's magnificent structures. I pictured the shekinah glory of God Himself hovering above the building. Breath-taking!
The rest of the day we visited the church of the Holy Sepulcher, the likely place of Jesus' crucifixion and burial. Then as a group we walked down Triumphal Entry, and spent some time on the Mount of Olives. I think all of us left the Mount a little heavy hearted, understanding what happened there nearly 2 thousand years ago. To add to that heaviness, we ended our day by visiting Yad Vashem (the holocaust museum). We shared a prayer in the hall of remembrance.  I saw many tears as we left that place. It broke our hearts to see what humans are capable of doing to each other, yet we are determined to make a positive difference where we can.
Liz Zeller
Audio from this day
Clip 1
Today's Photos