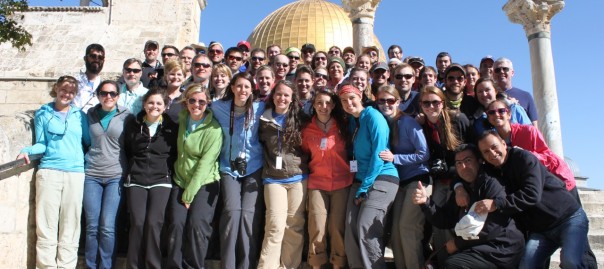 Day 9 – Shema on My Lips Mar 19
By Philip Alms
The morning rooster crowed at 5:45am on this cool and windy day in Jerusalem. We woke up 15 minutes earlier to get our best chance at getting onto the Temple Mount in the Old City. This opportunity had been something we have prayed for the past several months because it is a Palestinian controlled area they open and close as they please. Thanks be to God who came through and allowed us the opportunity to make the ascent to the Temple Mount and say Sh'ma while standing on such a sacred place. We went down from the Temple Mount and straight to the Western Wall (Or Wailing Wall), and then went straight from there to Hezekiah's Tunnel. We waded through its crisp and cool spring that flows all 1,500 feet through the cave. It was amazing to learn that they had started on separate ends, dug through the rock ground, and met in the middle!
From Hezekiah's Tunnel we headed to Bethlehem. We had to drop Ronan, our guide, off and spend the next couple hours with a tour guide at the Church of the Nativity. The view inside the church was one that spoke to three different religions and a thousand years of their artistic efforts to express ownership of it. From the Church of the Nativity we went to a souvenir shop owned by a Christian man to do some shopping. I will leave out what was in the store for fear of revealing a gift or two.
In order to finish our day, we headed to Yad Vashem, which means "A remembrance and a name." This was probably the most impactful part of the day for me. A theme for our trip was remembering to Sh'ma; that is, to remember love the Lord our God with all our heart, soul, and mind. It was fitting we finished our day here getting to walk through the holocaust from a Jewish perspective. (Deep Breath) We walked through a room that played a recording of all 1.5 million children's names, hometown, and age that were murdered in English, Hebrew… And German. We walked through a winding hall filled with exhibits, quotes, stories and information about the holocaust. Our group's eyes teared up as we read quotes that began with, "My name is 173,745…" Then, if I could share something that hit me hard personally, I walked into a room that was playing an interview of Shalom Shorenson. And, as he told a story about his experience in a death camp, I fell apart. "We saw them lining men up in shooting lines," he recalled, "…and then it was our turn. As my dad held my hand, we started saying, 'Hear, O Israel…' That was all we got out until they fired. I was twelve." Shorenson somehow, by God's grace, was not hit, but his story is powerful. In the face of certain death, after going through the horrific things him and his father went through, their reaction was Sh'ma.
We had a big day today, God provided and showed us a lot, and I pray that, regardless of our circumstances, we can say, "I still love the Lord my God with all of my heart, soul, and mind." Or to put it another way, "Whatever my lot, thou has taught me to say, 'It is well, It is well with my soul.'" It is with that perspective that Ronan, our guide, carries so much hope, and even said he wants to visit Germany with his wife one day.
Today's Photos