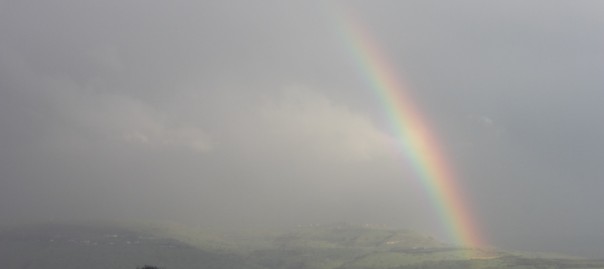 Day 6 – Last Day in Galilee Mar 16
By Matt Lantz
Hello friends and family! Thanks so much for keeping up with our trip and sending your encouraging comments! We feel very loved and supported by you all and appreciate your continued prayers for us. We are having a great time. Several of us have some blisters and other aches and pains, but nothing serious enough to sideline any of us, so we are grateful.
Tonight is our last night in Galilee and it is also the beginning of Shabbat (Friday evening through Saturday evening). We just returned home from going out for dinner (as opposed to eating at our hotel) where we enjoyed a glimpse into what a traditional family kidush would look like on Shabbat. It was a delightful meal together! Several of us ate the famous "St. Peter's Fish" (tilapia) and learned how to eat an entire fish off the bone. It was great!
Since we're getting home late and we need to pack for tomorrow's journey to the West, this will be a short recap of our day. Once again we had to negotiate cold, windy and rainy conditions throughout the Galilee, but it didn't dampen our spirits. We began our morning with a boat ride on the Sea of Galilee before heading to Mount Gilboa. After Gilboa where we talked about both Saul and Gideon, we went to the Decapolis city of Bet Shean. Then, we went to visit Susita on the eastern shore of the Sea. We finished up our day with baptisms in the Jordan River!
It was a BIG day! Tomorrow we head west towards Caesarea.
We'll get you all a better blog entry tomorrow when we have a little more time. Until then, enjoy the pictures and audio.
Shabbat Shalom!
Matt
http://youtu.be/NSVRj8uf8fc
Audio from this day
On the Boat Ride – Chris Sherrod
Today's Photos