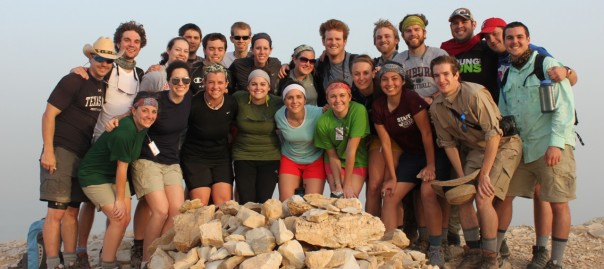 Day 3 – Top 10: The BIG Day Mar 13
by Chelsea Williams
Today was a BIG day. Huge.
Since we went to three sites today, and too many details are just too many details, here are the top ten highlights from today:
10.  Surviving the notoriously intense climb up to the fortress of Masada.
9.  Hiking through En Gedi, and possibly walking exactly where David walked as he fled from Saul over 2000 years ago.
8.  Eating the most delicious lunch of pita, lunchmeat, fresh vegetables, and endless supplies of hummus!
7.  Getting an authentic history lesson of the fortress and palace at Masada, from our Israeli tour guide, Ronen.
6.  Learning that Masada is like Israel's Alamo, thus leading us into many more (highly intelligent) comparisons between Israel and Texas. We both have national/state pride, after all…
5.  Arriving at our final destination just 30 minutes before the park closed. It was Qumran though. We had to go!
4.  Seeing the eyes of every history/anthropology major's eyes light up as we walked through some of the very caves where some of the Dead Sea scrolls were discovered in Qumran.
3.  Discussing the importance of knowing and loving the Word of God, in the very place (Qumran) where scribes had dedicated their entire lives to copying the text with extreme accuracy and reverence.
2.  Finding a hidden waterfall in the depths of the desert of En Gedi, and hearing Matt explain the significance of Living Water as we heard it rush in the background. Some even took advantage of the refreshing water and took a quick swim!
1.  Taking a "sprint hike" up to the tip-top of the mountain at Qumran, and being able to see over the countryside to the Dead Sea on one side, then over the vast Judean wilderness on the other side. We got to be up there, saw proof of others who had come before us, and joined in with our own Ebenezer. It was a moment we will never forget.
We are extremely thankful for all of your prayers! Please keep them coming!
Love from all,
Chelsea
Audio from this day:
Today's Photos