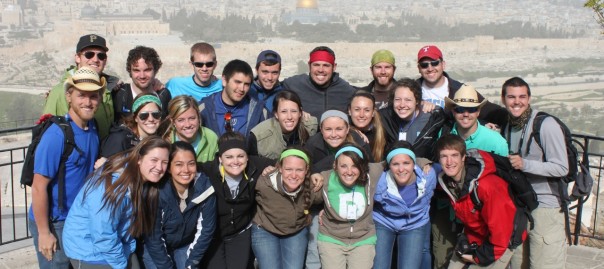 Day 10 – Our Last Day Mar 20
By Chelsea Williams
This morning we woke up and ate our last Israeli breakfast. It was our last morning to look out the window and see the city of Jerusalem glistening below, our visibility being limited due to the dust clouds hanging in the air.
Today was a big day, similar to the rest of our days here! It was filled with countless sites of places we have grown up hearing about in Sunday school class. We eagerly listened to the teaching of Matt and Chris as they literally walked us through the Passion Week of Christ. The walk began with the Mount of Olives, through Gethsemane, down the Via Dolorosa, and to the traditional markers of the crucifixion and resurrection. We snapped pictures and walked through hundreds of tourists representing all nations of the world.
Finally out of the pressing crowds, we walked along the ramparts of the city atop the old wall, praying for the peace of Jerusalem and reflecting on why the Lord allowed each of us to come here.
Since this is a traveling day for us, we made it to our last stop a bit earlier than usual. It was on the Southern Steps of the temple. Matt charged us with the same charge Jesus left his disciples with in Acts 1:8. Following Christ's ascension, the disciples waited in expectant prayer for the gift of the Holy Spirit. When it came, it came in power. Three thousand were added to their number that very day, perhaps on the same steps on which we sat.
As we looked out upon Jerusalem one last time, we prepared our hearts to return to the United States, "the very ends of the earth".
We all look forward to reconnecting with family and friends soon! We have greatly felt and appreciated your prayers throughout the trip, and ask for you to continue to pray for our safe travel through the next day! We cannot wait to share our stories with you all!
Shalom,
Chelsea
P.S. from Matt: We're sending this as we drive to the airport. Just a few hours before we board our plane and head home to you all! Please pray us home and we'll look forward to seeing you soon!
Today's Photos