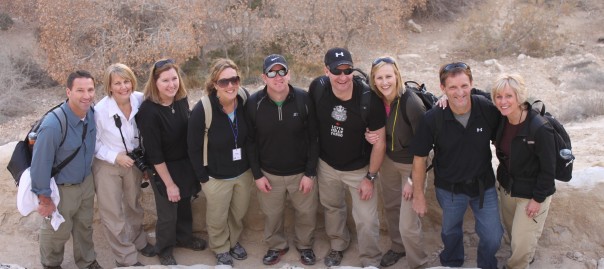 Day 1 – Making an Impression Feb 8
What a day it has been!  We began our morning as we expect to every day, sharing devotions as a group, and then boarding the bus, excited for what God had planned for us.  Our first stop today was Beersheba, where Abraham dug a well and built an altar to the Lord nearly 4000 years ago.  There we explored an ancient cistern, ducking through tunnels winding deep into the earth, marveling at how the ancient people must have struggled to build this cistern to store their precious water in this dry and barren place.  Our next adventure found each one of us on a camel's back, wandering the same dusty desert that the Israelites had wandered for 40 years.  We were challenged to remember that God will call us, as He called Abraham and His chosen people, to "desert places" in our lives, but that it is in those places that God can do His best work if we are willing to live by faith.
After a lunch stop at a beautiful desert oasis, we were off to Ein Afdat in the Desert of Zin.  This spectacular canyon in the desert was home to a beautiful pool of water at the base of the canyon, formed by a stream trickling from the rock.  We heard Pastor Keith read from the Bible the story of Moses striking the rock, and water flowing out for the thirsty Israelites.  He reminded us, as we gathered to listen, rocky ledges surrounding us on every side, that our God has the power to bring water from rock! Our afternoon included a rugged hike up the canyon wall, following a narrow trail with steps cut into the rock.  The view was incredible and we marveled at the beauty God had created in this place!
Thank you for your prayers for our safe travel—everything went smoothly getting here, and we are all doing well!  It has only been a short time, but this land is already making an impression on our hearts and minds!
—Sue Prins
Photos from this day