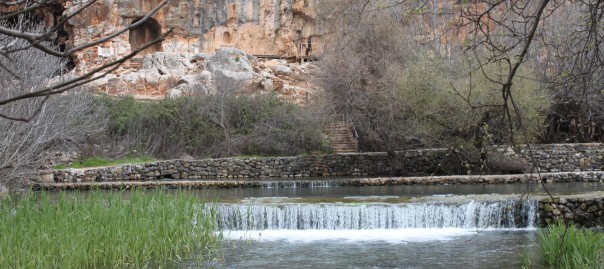 Day 8 – Overflowing Feb 15
We began our day at looking out at the shores of the Sea of Galilee.  As we boarded a boat, it was so amazing to realize that we were going out into the water that our Savior spent so much time by and where so much of the story of the Bible is told. Jesus had breakfast at the shores of this water, he traveled by boat across it, he walked on it, and he even commanded it to be still… and it was.  We read the story from Mark 4 when the furious storm came up.  For each of us, we know that storms will come in our life.  We can't predict them.  But Jesus shows us that he will handle them.   As we headed back to shore, we sang "Precious Lord, Take My Hand".  What a glorious, spirit-filled experience!
By 9:00 am we arrived at Capernaum.  There are seven warm springs going down to the Sea of Galilee.  There was a large school of fish in the water where the spring waters met the sea.  We reflected on how Jesus called the disciples.  Many of them were fishermen yet they understood Jesus, The Rabbi, and they responded immediately.  It reminded us that when Christ makes a call it is often unexpected, unconditional, undefined, and under-stated.  He simply wants us to come, go behind him, attach to him, and then go out and make disciples.
From here we traveled to Gamla, in the Golan Heights Mountains.  Gamla was the center of the Zealots. This was also a location of a synagogue that dates back to the time of Jesus.  This could literally be a synagogue that Jesus taught in (Matthew 9:35).  Bob led us in prayer and we shared some of our reflections of the day so far.  We stood on this mountain, and quietly sang "My Jesus I Love Thee".  We were once again in awe of where we were and how Great God is.
As we drove in the bus from Gamla, we could see the snow on the Mount of Hermon (Psalm 133).  At this point we were within miles of the Syrian border.  We stopped for lunch in a small town where the Druz people live.  We ate authentic,' Biblical', Labaneh pita sandwiches.  We continued our trip north and could see Lebanon to our left and Syria to our right.  By 1:30 pm we had arrived at Baniass, which we all knew as Caesarea Philippi. Crystal clear water was flowing from the melting snows of Mount Hermon.  This was a city where Herod the Great's son built the Temple of Pan.  It was a very immoral city that worshipped Greek gods.  Yet we know that it was also here that Jesus took his disciples and told Peter that 'on this rock, I will build my church". On our way out, Yahuda pointed out that they had uncovered a church in this place. The pages of Scripture came alive again as we stood in a place where Jesus was and remembered his promises.
From Caesarea Philippi we headed to Tel Dan, our final stop of the day. It was a rocky hike through heavy woods and bridges over rushing water.  It was such a stark contrast from the wilderness.  Jeroboam made two golden calves and one was placed here (I Kings 12:29). The people of Israel worshipped this idol, breaking the 2nd Commandment, and began down a slippery slope.  We could sense a very different feeling in this place.  This community was heading in the wrong direction.  Keith challenged us with thinking how we need to be a strong voice when we see someone going in the wrong direction.  As we headed back to the Sea of Galilee, we were overflowing with another inspiring day.
—Patti Jabaay
Photos from this day