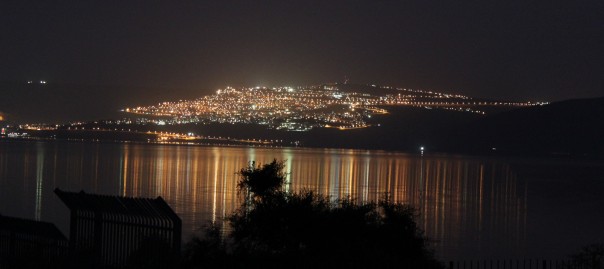 Day 7 – Homecoming Feb 14
Our learning today was rich intellectually, but even richer spiritually.  We began our day at Beth She'an. Alexander the Great was a champion of a Hellenistic worldview, so he established ten cities, including Bet She'an, to spread this way of thought.  Crucial to each of these cities were four venues: the theater, the temple, the arena, and the gymnasium.  As we toured these four areas of this incredibly well-preserved city, we were taught how Hellenism pervaded the culture of this city.  In the gymnasium, we learned how the city's occupants idolized the human form.  They went to extraordinary lengths to perfect their bodies.  The temple of Zeus, located at the top of the city, was visible from every area of Beth She'an.  Citizens glorified this immoral god, who magnified human consumption and fulfillment of every desire.  In the opulent theater, patrons viewed bawdy productions on the gigantic stage.  Finally, citizens were encouraged to come to the arena for release of tension and stress.  They came to this place to see blood, to cheer for gladiators who fought to the death, and to watch wild animals tear Christians limb from limb.  ("Arena" means "sand" in Greek- the floors were made of sand to absorb all the blood).  As we learned about the culture of this city, we could not help but draw parallels to our own culture, which so highly values individualism, having the perfect body, doing what "feels right", and gratifying every desire.  It was about just such a "far country" that Jesus tells the Parable of the Lost Son (Luke 15).  Being in this site today, it was not hard for us to see what pulled the older son to this city.  But what pulled him back home?  It was the emptiness of this way of life that helped him "come to his senses" and take stock of his life.   How touching and amazing it is to know that, when we have been lured away from God by empty worldly pursuits,  that our Heavenly Father longs for us to come home, and will give us a "new robe", clothing us in the righteousness of Christ, if we humble ourselves and return to Him!
In stark contrast to Beth She'an was the city of Chorazin.  This place, where Jesus did much of His teaching, had none of the polish or sophistication of Beth She'an.  Central to this city was the synagogue.  Here, our group learned about the importance of the Torah Ark and the Moses Seat.  After explaining to us the meaningful details of Jewish worship in this place, Pastor Keith read from Luke 4.  As we stood in this place, we could "see" the details of the text, of Jesus reading the Torah scroll, and taking His place on the Moses seat to teach the people.  We stood in holy silence, moved by a passage that had come alive in our hearts and minds.  From the synagogue, we moved on to an area in Chorazin where the occupants of the city lived, called an insula.  As families grew by marriage, they would build on rooms to the main home, forming a place of beautiful community.  Pastor Keith reminded us of an "insula" passage (John 14) where Jesus tells His disciples that His Father's house has many rooms, and He is going to prepare a place for us there.
Our next stop was Capernaum, referred to in the Bible as "Jesus' own town".  We were profoundly impacted by being in this city that Jesus called home, seeing where the paralytic was lowered through the roof to be healed by Jesus.  Our day ended on the beautiful Mount of Beatitudes, on the shore of the Sea of Galilee.  It was dusk, and lights from nearby cities twinkled across the water.  We sat on rocks, surrounded by wildflowers and lush green grasses, and listened as Bob Bouwer, Dave Weemhof, and Rob Byker read Matthew 5-7, Jesus' Sermon on the Mount.  Softly we sang, "Father, we love You, we worship and adore You". For our group, this moment will forever be etched in our hearts.
—Sue Prins
Photos from this day