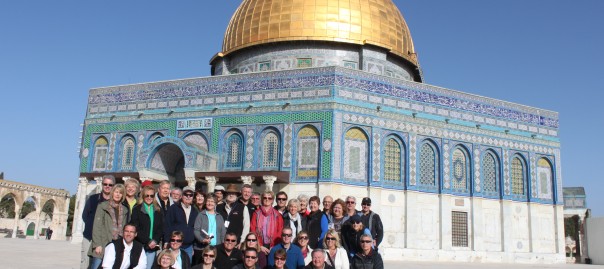 Day 6 – Words struggle to describe Feb 13
Today was an absolutely beautiful day in Israel with sunny, clear skies and a temperature of 65 degrees.  We started the day with devotions on the bus.  Pastor Bob led us with some powerful words from 2 Corinthians 2:14-17 that remind us that "we are the aroma of Christ to God among those who are being saved and among those who are perishing."  These words ring so true in the city of Jerusalem with its many different and complex cultures, beliefs, and histories all colliding here.  Brother Dean then led us in the worshipful words of the Schema, which has been our custom on this trip each morning.
Our first stop was the Temple Mount where we had to pass through security and then were able to take in the huge expanse that is the home of the Dome of the Rock and other Muslim worship places.  The place is quite impressive given that it is a huge flat surface on the top of a hill (Google it sometime!).  We were able to see a section of original Herodian floor stones that Mary, Joseph and Jesus could quite possibly have walked on along with possibly millions of other Jewish pilgrims on their way to the Temple.
As we left the Temple Mount, we passed the Western Wall and were able to observe several Bar Mitzvah celebrations going on.  Rabbi Doornbos helped us connect these ceremonies of Jewish boys reading the Torah aloud for the first time to the fact that Jesus also spoke aloud in the Temple as a young boy.
We then traveled to the West Bank to the Herodium, a palace built and often utilized by King Herod, "the king of the Jews".  This palace was high on a hill and looked down on Bethlehem, where Jesus was born.  Rabbi Keith did an excellent job of making scripture come alive and pointed out that the true King of the Jews fulfilled what the prophets has spoken of long ago.
We left Palestinian-controlled Bethlehem and headed back to Jerusalem and visited the Holocaust Museum.  This is a stark reminder of human sinfulness and brokenness and also a great help in understanding the modern Jewish mindset and the importance of the land that they possess.
We finished the day with an excellent light and sound show projected onto the walls of part of Herod's palace in Old Jerusalem that took us on a journey through the history of Jerusalem.
I (we) are all realizing that cameras and words struggle to describe what we are seeing and hearing.  What an amazing experience and what an awesome and amazing God!
—Dave Weemhoff
Photos from this day