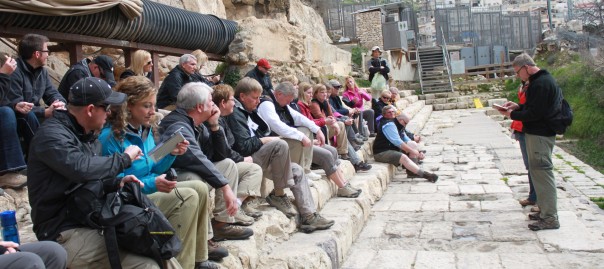 Day 5 – This Very Place Feb 12
Today we explored the beautiful, multi-faceted city of Jerusalem!  We began at the Western Wall Museum, where our tour guide helped us to understand the layout of the temple mount, which is no small task, considering that this area has undergone many transformations over the centuries.  Using models of the mount that fit together like a multi-dimensional puzzle, our guide showed us how this area is built on several different levels, constructed or changed by different kings throughout the ages, including Solomon, Hezekiah, and Herod.  We walked away from our tour with a much better understanding of the fascinating place we were about to explore.
Next, our group explored Hezekiah's tunnel, an aqueduct built by King Hezekiah to insure the city would have adequate water when under attack.  We used our flashlights to navigate the tunnel, crouching and slogging through knee-deep water, far below the city.  It was a marvel to see how these ancient people had been able to construct such a tunnel.  Upon exiting the tunnel, we visited the Pool of Saloam, where Jesus performed a miracle in restoring sight to a blind man (John 9), then walked along an ancient road adjacent to the temple where Jesus and His disciples surely walked.  As we listened to Pastor Keith and our "guest guide" for the day, Emily Thomassen (who is from Holland, MI,  now studying in Jerusalem), tell us stories from the Bible of Jesus' last week on earth, when He spent time in this very place, the stories came alive to us in new and powerful ways.  Next, our group was able to descend into one of the mikvahs, or ritual baths, outside of the temple.  This is an important part of Jewish worship, in which the worshipper descends into the water unclean, but comes out clean and ready to enter God's presence.  We were encouraged, as we descended the stairs, to offer our own worship to Jesus, who cleansed us with His precious blood.
Our final stop of the day was the Southern Stairs.  Thousands of worshippers, after being cleansed in the mikvahs, would ascend these stairs to enter into the temple.  Rabbis often taught on these stairs, and it was likely that Jesus gave lessons to his disciples there as well.  For example, Emily read to us from Matt. 23, and pointed out how many of the things that Jesus referenced as he proclaimed woe to the teachers of the law and the Pharisees, can actually be seen from the very spot where we were now sitting (whitewashed tombs, the marketplace, the temple).  She also explained that it was likely that Paul had learned from Rabbi Gamaliel on these same steps.   What a gift it was for us to also be here, sitting on these same steps, learning from our passionate teachers in ways that will change our reading of the Bible forever!
—Sue Prins
Photos from this day