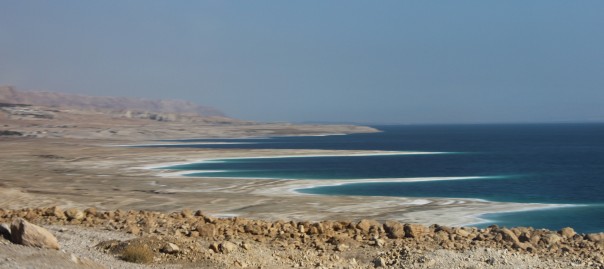 Day 4 – Living Water Feb 11
This morning we awoke in Jerusalem on the day of Shabbat, which began at sundown last night.  Because Shabbat (the Sabbath) is a day of rest, Keith graciously gave us the gift of an extra 45 minutes to begin our day.  We travelled south to the En Gedi nature preserve for our experience of Shabbat.  As we travelled we saw the paths of righteousness that the Psalmist referred to in Psalm 23.  These are horizontal paths on the hillsides along which the sheep travel as they graze.  We saw from a distance the mountain where Jesus was tempted by Satan as we continued to move toward En Gedi.
When we arrived at En Gedi we experienced a place where springs bring life to a barren place.  En Gedi, which means "springs of goats" in Hebrew is the largest source of fresh water in the Judean wilderness.  It is the place where David took refuge from Saul.  It was here, in a cave where David was in hiding, that he cut the corner of Saul's robe (I Samuel 24).
We then climbed to an area of three waterfalls where we had an amazing time of teaching and worship.  Keith compared living water, which is fresh, clean, and pure and gives life, to cistern water, which is collected and can become stale and bring death.  He challenged us with the question "Is our water coming from our own resources like the cistern water or from God who provides living water in Jesus Christ?"  We celebrated the gift of Jesus, our living water, by removing our shoes and socks and standing in the pool of water at the base of the falls.  We splashed water on our faces, hands, heart and feet as we rededicated ourselves to Jesus – a very personal and meaningful experience.  We then joyously worshipped our Lord with singing.
After lunch, at an oasis by the Dead Sea, we saw Mount Nebo from a distance.  Moses viewed the Promised Land from Mount Nebo and God buried him there.  Next we climbed a hill and walked a road along the Wadi Qelt that leads from Jericho to Jerusalem.  It was along this way that Jesus travelled with his family to the temple.  It is also the setting for the parable of the Good Samaritan.
On our way back to our hotel, we hiked up a hill to see the remains of an inn built at the time of the crusades.  The day finished with a visit to the Church of the Holy Sepulchre in Jerusalem.
This was our day of rest!!  Tomorrow, we are told, will be a very full day!  Thank you for your prayers!  God has blessed us with safety and a wonderful community of believers!
— Judy Bolt
Photos from this day