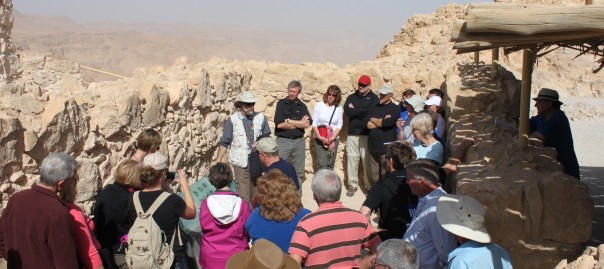 Day 2 – Milk and Honey Feb 9
Our day began with devotions underneath a carob tree.   Pastor Keith Doornbos showed us the pods and shared that this was St.John's bread.   This was the "locust" part of John's "locust and wild honey" diet.   Pastor Bob Brouwer then shared from Psalm 67.   God blesses us so that we can spread his story and help all nations connect to it.
Our first site of the day was Masada.   Atop a mountain plateau near the Dead Sea, Masada was a mountain stronghold where the last Jewish freedom fighters took their stand against the Romans in A.D. 70-73.  Before visiting, we stopped about a mile away so we could take in a great view of this mountain fortress.   Pastor Keith helped us get a spiritual overview of this place.   Masada means "stronghold."   David said in Psalm 18:1-2, "I love you, O Lord, my strength.   The Lord is my rock, my fortress and my deliverer: my God is my rock, in whom I take refuge.   He is…my stronghold."   He urged us to "think Hebrew".   The Greeks might say God is "omnipotent" but David, the Hebrew, says, "God is my stronghold."
When we all reached the top of the plateau, (whether by cable car or by hiking the Snake Trail) we toured the site and learned the full story of Masada.   King Herod selected Masada as a winter palace and built three palaces there.   He also built a swanky bathhouse in this remote desert which only gets 2 inches of rain per year.  When the Romans laid siege to Masada, the climactic chapter in the Masada story began.    For two years 980 Jews successfully held off 8,000 soldiers, but finally the Roman tower with a battering ram cracked a hole in Masada.   The end was in sight.  The leader Eleazar Ben-Yair feared that the Romans would violate their women and enslave their children and he counseled mass suicide suggesting that it "was a favor God granted us, that it is still in our power to die bravely, and in a state of freedom."  Our tour guide Jehuda shared that when he entered the Israeli army he made his vows to protect Israeli freedom atop Masada.
The second site of the day was Qumran where a young shepherd boy found the Dead Sea Scrolls, which this community faithfully preserved.   This holy community dedicated themselves to be a "people of the light, turn the other cheek, and hold to the truth of justification by faith."    Some of the same values as early Christianity!   And Jehuda also shared that the Qumran community had a factory of date honey in one of their buildings.   It turns out that date honey can heal wounds, preserve food up to a month, and it also is tasty and healthy.   What's more, when the Old Testament refers to honey it's often referring to date honey.  Even a small fact like this helps me "walk through the Bible in the land of the Bible"—which was, after all, a land of milk and honey.   The tour is turning out to be one sweet experience.
—Rob Byker
Photos from this day