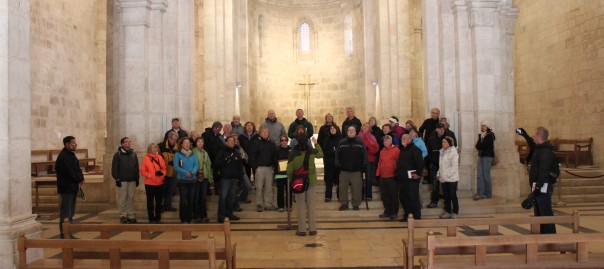 Day 10 – He is not here, He has risen! Feb 17
Our last day of pilgrimage in this special land—how we want to drink in every single moment of today, to stamp every story into our memories and capture every detail!  Today we remembered the passion week of our Lord, as we spent this last day in Jerusalem.  We followed the same route that Jesus and His disciples took as they entered the city.  We imagined the crowds waving their palm branches and shouting "Hosanna!" as Jesus descended the steep, stone covered street, riding on a donkey.  We were reminded how Jesus wept over Jerusalem, sorrowing that they did not understand that peace comes not through revolt, revolution, or human strength, but through His atoning death.
We stopped at the Pool of Bethesda, a water collection pool that was probably also used by Roman soldiers to cool off in the heat of the day.  In this location, there was a temple to the Greek god of healing, who, it was believed, cured those with diseases by stirring the water. Jesus came here with His disciples and met a disabled man who had been unable to get down to the waters for healing.  Before healing the man, Jesus asked him, "Do you want to be healed?"  Pastor Keith challenged us with this same question.  Do we really want to leave our comfort zone, all we have known, to be touched by the Lord?  Our answer has implications for the leadership of our lives- who will be in control?  Do we really want to be a disciple of Jesus?  Are we willing to leave everything familiar behind and follow Him?
We made our way to St. Anne's Church, set on the location where tradition holds that Jesus was crucified and died.  In this church with near perfect acoustics, we gathered together and sang praise to God, the words echoing off the walls.  It was a beautiful, moving taste of heaven on earth.
We traveled to the traditional site of the Upper Room, where Jesus ate the last Supper with His disciples, and listened to the account from Matt. 26 as we looked over the rooftops of the city.  We also reflected on Jesus' words in John 15, some of the last words of Jesus to His disciples, urging them to remain in Him, to stay connected to Him.  We visited the Mount of Olives, where Jesus went with His disciples to pray following their celebration of Passover.   Again, we listened to the account being read from Scripture, then spent time in the garden silently reflecting on Jesus' agonizing prayer, his intense sweating as He began to bear the pressure of our sins.
Our final stop for the day was the Garden Tomb.  We saw the rocky wall, with caves giving it the appearance of a skull, which might have been the place of the crucifixion.  Near this location is an ancient tomb cut into the rock, which we entered, a few at a time.  We gave praise to God, as we read the sign printed on the door: "He is not here, He has risen!"  In this same location, we gathered as a group to celebrate communion.  As we ate the bread and drank the wine, our hearts swelled in worship and love for the Lord.  We sang some hymns together, many of us dabbing at tears and embracing each other.
We have now come to the end of our pilgrimage here in this Holy Land.  We began as a group of strangers, and have become family.  We began with incorrect, or non-existent, pictures in our minds of Biblical places and stories, and we are leaving with rich memories which have made the Bible come alive.  Most of all, we are leaving this place with a deeper, more vibrant love for our Savior, and a more passionate desire to follow closely in His footsteps as His disciples.
—Sue Prins
Photos from this day