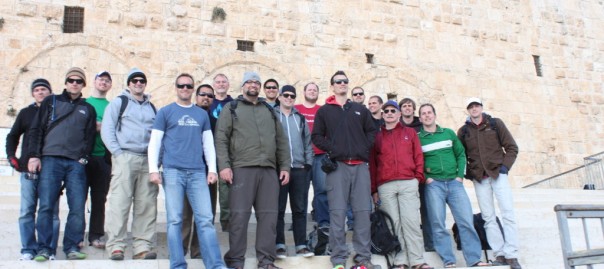 Day 5—Reflection Jan 9
Rich Ferreira
Wow what a crazy 5 days. Even after having the opportunity to travel to Israel 10 different times in the past years I am always overwhelmed by the land of the Bible and seeing the scriptures come to life. It has been a privilege to spend this tour exploring the land with these great guys and on behalf of Hume Lake and GTI Tours we all believe that it was well worth the time and investment. As I write this it is tough to think about leaving this place as well as our great Israeli friends who have opened their land and hearts to us. Our hope is that you have gained a glimpse of Israel and our trip through the blog and that you will engage us in conversation about what we have learned when we return. Shalom
Troy Leeman
Wow, I'm amazed at what I got to experience on this trip! I expected a lot coming on this trip because of what I knew about the land from the last ten years of study. However, this trip far exceeded my expectations. Being in the land of the Scriptures is so special. You see things that you have read and heard about. You learn about a land that is the focus of mankind since its very existence. There is something amazing that comes with this experience. I have grown more in one week than at any other point in my life. I love my God and Savior in a deeper way because of what I have been able to experience this week.
Adam Weatherby
I came with some pretty big expectations on this trip and it is safe to say that my last week in Israel has blown them all away. The first day of our tour I was moved to tears several times. In fact, that night I teared up as I thanked Rich Ferreira for inviting me. Having preached the Word for most of my life, I soaked up every site we visited as things really came to life for me. My study and interpretation of the Bible will now come with more insight and I know that I will not be the only one to benefit from this trip. I plan to continue to study my learning of the Holy Land and apply the culture, geography and history at I learned this week. I do know one thing...this will not be my last trip
Rich Baker
My goal for this trip was to see Israel with new fresh eyes, get to know some new friends and to watch as my new friends were in awe of their Lord and this land of Israel. I am so glad to say that all of the above happened. It was amazing getting to know the people that I went on the trip with and it was even more amazing seeing their excitement grow from place to place. As for my personal growth, I was blessed to come to Israel two years ago but I must say there was so much that I enjoyed more this trip than the last trip. It was great to not feel the stress of seeing everything, Instead I was able to simply enjoy the land that I missed so much. It was an amazing trip. A huge thanks to all that made it possible. I cannot wait to read my Bible and read about the places that I have been visiting for the last 5 days.
Scott Drake
What an amazing trip! Coming to Israel, I had hoped to expand my understanding of the context of what I've read for so many years in God's Word by walking where Jesus walked. Not only did that occur, but it occurred to a degree that I could not previously imagine. I had no idea how much I had been missing! And to experience it all with such an amazing group of brothers was something that I will never forget. Thank you to everyone that made this experience possible and to everyone that prayed for us daily. I cannot say thank you enough. While I am excited to get home to my beautiful wife and kids, I will miss this beautiful land. God willing, I will return here soon with others to share it with, but in the meantime I look forward to reading, studying and teaching God's Word with an even greater realization that the places we read about are so much more than dots on a map.
John Riley
The past week in Israel has been a powerful time for me. It has literally brought the Bible off the pages for me, and allowed me to see things in a different light. Places I have read about for years now are connected to images, scents, and memories. Also, I have enjoyed some super rich and meaningful times with God. Just being able to sit still on the Sea of Galilee or looking over the Jerusalem from the Mount of Olives have been incredible moments for me. I could have never understood Israel in this way if I had not been given this opportunity. Finally, the group of guys I have been able to share this experience with was such an encouragement. I am leaving this trip with a greater understanding of God's Word and with an excitement to share that with others. I haven't experienced anything like this before. I hope you will be able to find out for yourself what I am talking about.
Steve Dang
If I could sum up this trip in one statement I would say: my imagination now has context. One can only get so much information about how Jesus taught and the audience He spoke to from commentaries, but no commentary or Bible map can beat standing next to the sea of Galilee or seeing the ruins of an old fishing village in person. Being on this trip has really given me a fresh prospective on who Jesus and His disciples were as Jews, as Galileans and as people steeped in the rich history of God's people. Being in Israel gave me a true sense that who they were, how they lived, and where they come from are inseparable. This trip has definitely given me a greater appreciation for the grand narrative of the Scripture. Listening to our guides tell the story of being God's people in the land that God has given them paired with the archeology and history of this place is a reminder that the good news of Jesus does not start in the New Testament, but rather it is a continuation of the salvation story of God's people that He has been writing since the beginning. Perhaps the most valuable part about coming to Israel is the sense in which we, as Christians, are tied to the land as well. As we stood at different sites such as Mt. Arbel, Mt. Carmel or Azekah and read the stories of David and Elijah we really got a sense that those stories are not simply stories that happened to some ancient people a long time ago, but as we stood on this mountain we started to realize that these are not just "their" stories, but through faith those stories become "our" stories too. Rich and Ronen constantly told us, "when you are in Israel, you are home", now that I have experienced being here, he's absolutely right and unless one goes, I don't know if one can really understand or explain the feeling.

Before I started this trip I had three goals: learn the geography of the Biblical lands at ground level, connect with God in new and fresh ways, and build community with other pastors. Being in Israel has superseded my objectives by far! I don't know how many weeks it will take me to fully unpack everything that I've learned here in Israel from seeing the Temple Mount alone! What God taught me as we hiked around Galilee was profound and worship inspiring! Finally, the encouragement and community that we built here with other pastors is priceless and I genuinely hope that our relationships will continue for years to come. I would like to thank everyone who worked tirelessly to make this trip happen and for everyone who supported us along the way.
Lenny Harris
Our trip to Israel with 16 pastors has sadly come to an end. In a few hours we will get on our first flight to Istanbul then off to the states. It has truly been a life changing experience for all. Because these were pastors who joined some of our Hume program staff for this unique trip, many others will benefit. You just can't visit Israel and leave unchanged.

For me personally, the Bible has come to life. God has brought a fresh hunger for His Word and a passion see others experience God's Word in living color.

A special thanks to the Senior Pastors who allowed your staff to join us on this trip. I am confident it will pay huge dividends in the days and years to come.
Lem
I can't believe that all of these years I have pronounced all of these names incorrectly. I can't believe that all of these years I have taught the stories of the Bible from a one-dimensional perspective. I can't believe that all of these years that despite mispronunciation and a very myopic perspective that God would still use me through teaching His Word. I can't believe that all of these years I've never been to Israel. I can't believe that my first trip has come to an end.

I am excited about processing through all that I have learned. My heart and mind are full. I am ready to teach in better than 3D quality, the stories in the Bible and my experience in this place. I started the trip thinking, "You don't have to come to Israel to really have a great experience of Jesus." After a week in Israel, I still feel the same way, but I can tell you that an experience of Israel really helps you to better understand your experience with Jesus - in 3D. The investment of Hume and GTI Tours in the lives of 20 pastors will have an exponentially impact in so many. So what that I didn't get to go during Seminary - I got to go this past week, and my life is changed because of it. Here's to the next trip.
Derek Geer
The time in Israel for me was a complete eye-opener. The experience is one that I will never forget and forever be impacted by. The most impactful piece I will carry home with me is the acknowledgement that God is not simply bound by a holy land, or lavish temple, or traditional rituals, but is living within me, through the power of the Holy Spirit. The history of God's chosen nation only amplifies the demand for His redemptive plan and the need for Jesus in my life. I will always look at the Bible in a different light having walked the tangible, real, historical sights I've only read about.
KJ Stephens
Wow! That's the word that kept popping into my head throughout this trip. Wow! I can't believe I am really here! Wow! I can't believe I am walking where Jesus walked! Wow! This is the place the bible was talking about. Wow! Well, you get the idea. Now that this trip is coming to an end, I know I am going to need some time to process everything that I have seen and learned. I can't wait to get home, grab a cup of coffee, and re-read stories that I have read hundreds of times and be able to actually picture the scene in my mind. I am so thankful for this trip and it has ignited a new passion to read the bible in a way that I can visualize what I am reading. Now, when I read the words in my bible about Jesus walking on water I can picture the boat ride I took on the Sea of Galilee. When I read the story of David and Goliath I can picture the hill where the Philistines would have been camping and mocking the God of David. I can imagine the young shepherd walking to the river and picking up stones to use against the giant warrior. I was there! Over and over when the bible talks about Jerusalem - the walls, the gates, the temple - I walked throughout that city and understand the layout better than any map in my bible could have ever taught me. I am so thankful for this trip and the opportunity to know more about my Savior and the incredible miracle of God sending his son to earth, specifically Israel!
Luke Thomas
Seeing the holy land, will go down as one of the greatest gifts I have been able to receive. To see the archeological evidence, confirms the historical accuracy of the Bible. To see the land, helps me to be able to experience the stories I have read about. To go with a bunch of like minded youth pastors, gets me pumped about the spread of the knowledge of God and his story to youth that we get to disciple. As a teacher at Immanuel High School, I am blessed to receive any knowledge about the word for the furthering of my ministry. I come back to a new semester with pictures, movie clips, and memories on the stage that the Bible was played out. I also come back with new teaching and information that I can take to the students I will mentor. Finally, I was blessed to be reminded where my Lord and Savior walked, lived, died, rose again, and will some day return. Praise God!
Josh Simpson
Wow...what an amazing experience this past week has been! It has been a huge blessing to travel with this group of youth pastors, sponsored by Hume Lake and GTI Tours. I am so thankful for the community I have built with these guys and I hope these friendships will be long-lasting. This journey through Israel has provided the chance to experience the Bible and to be in the actual places where Peter preached, battles were fought, and Jesus walked. Some of the things that stand out most to me were...hiking to the top of Mount Arbel in the rain and mud...singing the Doxology in St. Anne's Church in Jerusalem...treading through the water in Hezekiah's Tunnel...sailing across the Sea of Galilee while dancing to Hava Nagila...picking up stones on the battle site of David and Goliath....spending time alone with the Lord on the Mount of Olives while overlooking the temple mount. I pray that I will be able to share these pictures I have taken in my mind and heart with my friends, family and students.
Andrew West
Coming down from the Mount of Olives we stepped into Gethsemane into another time and place. As I sat in the olive tree grove with the temple mount as a backdrop I could imagine what it must have been like to walk with Jesus there. This is what I experienced over and over again throughout the week. I am so thankful to GTI tours and Hume lake for this incredible opportunity. The pages of scripture have come alive and my biblical imagination has grown so much. To experience the land of the bible with the guidance of two people who love the land and love the story of the land is an experience that I will continue to pull from the rest of my life. I had hoped for two things on this trip: learn the land, come home with passion. What I have experienced exceeded my expectations. I have encountered the land and touched the soil of scripture, I have made some incredible friends, and I am excited anew to read the Bible and share it with others. Thank you again GTI and Hume, I will not be the same.
Nate Wright
What an enthralling time! My desires on this trip were to learn more about geography and topography, along with just being in the place the Savior lived. My goals were exceeded! Not only were all my desires met but I came up with such a greater understanding of the history of Israel and groups of people, like the Crusaders, Romans, and Muslims. More than that I also came away with a much deeper knowledge of the culture of Jesus time, which in turn gives me a far greater understanding of parables and metaphors spoken by Christ. I have pictures in my mind that have made a permanent mark giving me a greater passion to teach the truths of Scripture to those I serve. I am so thankful for this experience and definitely want to return soon with my wife and students as long as you, Rich, and Ronen guide and Igal drives!
Jimmy Higgins
Before visiting Israel I was hoping this trip would deepen my understanding of scripture and help me be a better teacher. It's done that in more ways than I can describe, and has also deepened my relationship with the Lord. I'll never be able to look at a map of Israel or read my Bible the same way again.

Rich Ferreira and our tour guide Ronin were amazing teachers. Some of the youth pastors also taught on the trip and it was great to sit as a student and learn from these wise men. Ronin taught the history of Israel with passion and gave a Hebrew perspective that helped me put a lot of the pieces together. Now I see how it connects and I have living pictures to put with the biblical history. I can't wait to incorporate what I've learned into my teaching when I return home.

Walking through Hezekiah's tunnel and sitting at the Pool of Siloam was an experience I'll never forget. When we hiked from there up to the temple mount through a newly discovered tunnel and sat on the Southern steps I was in awe of how incredible the first century temple must have been. Now I have such a greater understanding of the context of the New Testament and the environment Jesus taught in. Spending time where Jesus ministered in the Galilee was another great experience, and we were even able to drive below Jerusalem to study about sites there too. It's hard to believe that we packed so much study and travel into such a short time.

There were so many other experiences that I'd like to share about, but I'll close by saying thanks to GTI Tours and Rich for putting this whole thing together. I'm also thankful for my wife who held down the home front while I was away. I'd like to thank my church and prayer partners for believing in the importance of this learning adventure. I'm humbled to receive such a huge blessing!
Dave Ferreira
Looking back on the last week has mixed emotions and perceptions for me. Each day seemed to be packed with a week's worth of sights leaving me weary, yet full of thoughts and anticipation for the next day. I was amazed at the energy that welled up within me with not only each new sight, but each hill and corner we turned while riding the bus. I've never been in a place that has such deep history with each new turn. The fact that the roots of my faith were confirmed over and over left me feeling very humbled and grateful that God would leave such evidences. I was overwhelmed with seeing where the Lord has taken my son. You always pray that your children would be used by God and grow up with a passionate relationship with Him, loving and fulfilled in His service. I truly have been amazed and proud of the work God is doing through Rich. Although each sight was an adventure and a great learning experience, I especially was touched by the singing at St. Anne's Church. A rag tag bunch of guys actually sounded great, and moved my heart to tears. The other was the time in the Elah valley where David and Goliath met. Looking down from the city of Azekah onto the battle field, stirred my heart more than I ever imagined it could. I know I'll be processing and unpacking all I've seen and learned for some time. I am convinced that just telling others about the trip can never fully explain the depth of the experience. There is a dimension that only comes from being here. As God allows, I would encourage each person to make it a priority to come and experience Israel.
Photos From Today
Day 5 Photo Gallery

Video From Today
Audio From Today