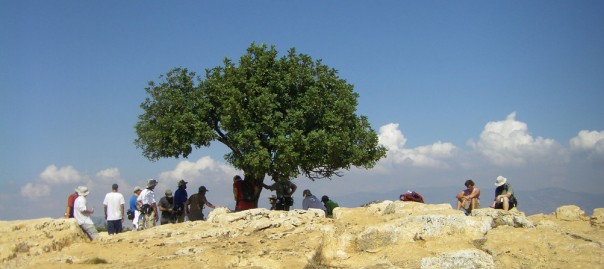 Day 9 – God's Way Sep 26
Discovering the ancient paths in Israel has been the most incredible experience of my life.  Scott has been our rabbi who has introduced us to the place where David slew Goliath, where some of the Bedouins  served us warm, sweet tea and tortilla-like bread that was cooked in front of us on a huge round convex pan.  Camels were enclosed in an area near the home.
We hiked about 9 miles that day, because we hiked up the Snake Trail to Masada, one of Herod's fortresses.  What a nasty, scary man Herod was!  He had 7 fortresses around to show his power.  He would hire the locals to build these palaces (or fortresses) so he could ingratiate himself to them.  Scott has shared many stories, and we followers have read or recited Bible verses that related to Scott's stories and Bible events.  Yesterday, we were baptized in the Jordan River after each of us said a prayer.  I prayed for my wonderful family, whom I love so much.  I want God's way to be my way; and I prayed about that too. ..Today was unbelievable!  We climbed Mt. Arbel.  Inside one of the many caves where Rabbi  led us, we smelled goad urine and feces and realized that was very much like the place where Jesus was born. ..We are a real community of love and caring here. ..I've learned that discipleship is many things including love, repentance, obedience, prayer, reading the Bible and so much more. ..We have had many experiences that have tested us; and no one had complained that I know of.  I've learned that all things are possible through God.  I haven't even touched the surface, but all I can say is Scott, our Rabbi, is incredible.  His timing, his Biblical knowledge, his sensitivity, his sense of humor, his humility, his ability to help create a sense of community among us, his stories and SO MUCH MORE have inspired each of us, with God's help, to work on our weaknesses, increase our strengths and to never give up.  May the peace of God and the freshness of the Holy Spirit stay in our thoughts and conquer any fears any of us may have.  I, for one, feel incredibly blessed.  With my love to all who might feel like reading this!
–Janice Atkins
Audio from today
Photos from today