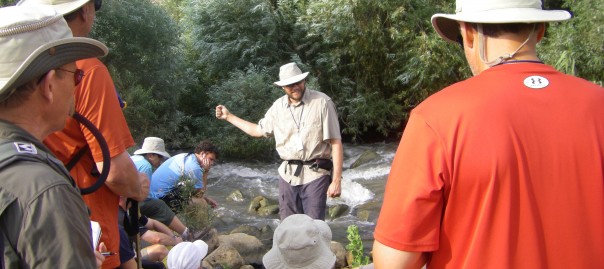 Day 8 – Living on the Edge Sep 25
Shalom.  Today we started with a morning devotional on the banks of the Sea of Galilee.  From there, we headed out on what seemed to be a drive through the country side and disembarked on a hike leading us to the Jordan River.  "Two bottles please, and every other person a third if you can," came over the loud speaker as we arrived.
The Jordan River was flowing strong and had a rushing sound that I will not forget.  As we prepared for our teaching, was sat and listened as the water rushed by us.  The terms that come to mind about the Jordan today are; strong current, white water, and fast moving.  G-d does not call us to jump into to the white water, but rather to partner with us as we live on the edge of the river, or Riverside, and stand ready to receive those that are in the midst of a white water situation in their own life.  We have to be prepared to get our feet wet.  Powerful teaching that brought the scripture to life and in full color.  Our Rabbi invited us into the Jordan and we participated in mikveh, cleansing of our mind, heart, works, and walk.  We were also invited to rededicate or confirm or even for the first time, to take part in believer's baptism, in this amazing and beautiful place.
Our next discovery was the Roman-Byzantine city of Beth-She'an.  It is here that we are reminded of our Hellenistic ways.  This was a place that really got the thought processes flowing as we attempted to hone in on the desires of our heart rather than the desires of our flesh.
The day came to a close at Susita.  This is the place on the other side of the Sea of Galilee where Jesus and his disciples traveled to and came upon a man that was demon possessed.  Jesus casts the demon out of the man and into pigs.  The pigs were then casts into the abyss, the Sea of Galilee.  The demonic man was begging to board the boat with Jesus and his disciples, but he was instructed to return to where he was from and to share his story with all that he could.
It was an amazing day of teaching with shanan (sticking points) that will not be forgotten and will be recalled as we read the Text from here on out.  I pray that we all have the opportunity to get our feet wet.
Blessings, Â Phil Marquez
Audio from today
Photos from today