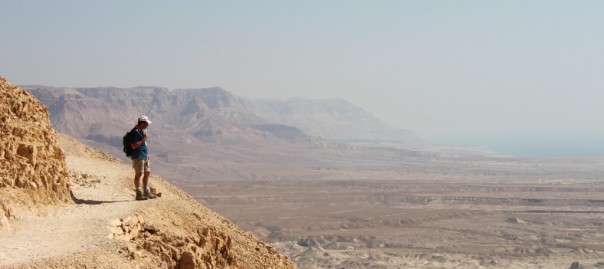 Day 4 – Leaving the Wilderness Jun 20
Today we began our journey towards The Sea of Galilee north through the desert along the Dead Sea. Stopping at Masada we climbed the Snake Trail 1,100 feet to the top and gained an appreciation for how difficult this stronghold would be to conquer. On the high plateau our guide, Ronen, revealed to us that there was much more to this place than the siege which occurred here.  This would be a common theme for the day as we continue to have our "American" version of the Bible and Jewish history stripped away.
Masada was a thriving business hub and a winter palace for Herod the Great that was equipped with large store rooms for products like salt and minerals harvested from the Dead Sea and an intricate aqueduct system that could supply water for 1,000 people for up to 100 years. After Herod passed away Masada lost much of its significance to the Roman Empire. Eventually a group of Jewish Zealots gained control of Masada where they hoped to live out their lives separated from the world around them. I was stuck by these two tangible lessons that we have a purpose that can be forgotten and that we are to be in the world not set apart from the world.
(Oh, sorry I'm being pulled off the bus at an Israeli check point as I write this….)
Okay, I'm back. No worries, but it is a vivid reminder of where we are.
Hot and tired we pressed on towards Ein Gedi, which means "Spring of the Goat." As Rich stood in the cool water while he taught, we were becoming jealous as he spoke about the story in 1 Samuel 24 where David spares Saul's life. Instead of killing King Saul, David sent Saul a message by cutting off the corner of his garment which is often misunderstood when you don't consider the Jewish context. We learned that most likely Saul was wearing a prayer shawl and the tassels on the Kanaf (corner in Hebrew) represents the power of the Lord. This affirmation by David that God had turned his back on Saul is another reminder of how we can turn our back on the "Living Water" of God that He is so willing to pour into our lives. Rich then encourage us to thoroughly douse ourselves in this wonderful fresh water and wash away the dryness of the "wilderness" that can overtake our lives.
We reached our last stop of the day Qumran, the site where the Dead Sea Scrolls were found. It was another example of how something so valuable as the living Word of God can be lost when we withdraw from the world and only focus on our relationship with God as the Essenes did. Brad Bell reminded us that we need to be people in the world sharing the love of Christ to those around us otherwise it becomes lost and ineffective. It was a practical picture as our last stop on our way out of the desert.
Some of us then climbed to the top of the ridge line to lay stones with a personal note of what we want to leave here in the wilderness or what we hope to live out our in lives as we return to the world. I'm Looking forward to spending tomorrow around the Sea of Galilee and gaining more vivid pictures of how Christ impacted His world.
Wayne Freeman
Audio from this day:
Photos from this day

Today's Photos