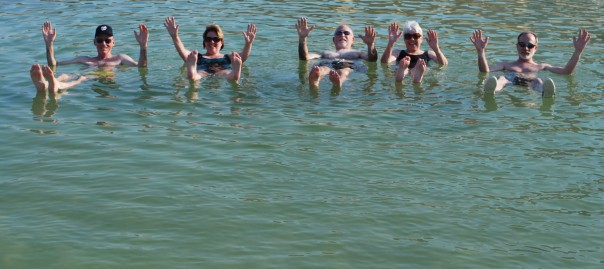 Day 6 – Dead Sea to Galilee Jun 22
A number of participants woke up very early (5:15 am) to see the sun rise over the Dead Sea for our last morning there. It was amazingly brilliant, and due to the kindness of the front desk attendant, three of the participants were able to watch it from the roof of the hotel (sweet!). We then had an amazing devotion on Jeremiah 17, and went off to the Judah wilderness.
This was probably the hottest day so far, making the climb of the site "En Gedi" a rather daunting feat. However, the group did amazingly well and was able to stay together during the 3 hour, rocky, up-and-down hike (the Lord gave us "feet of a deer", per Psalm 18). A highlight was the "stream of living water", a shaded oasis of cool, refreshing water in the middle of the hot, dusty wilderness. A good reminder that in our own lives, when we are walking and feeling faint, God will provide us enough refreshment to keep going if we do not faint. Baruch ata Adonai Elohenu, Melekh ha olam! (×'רוך את×" יי אל×"×™× ×•Â ×ž×œ×šÂ ×"עולם)
After lunch, we toured Qumran, the site where the Dead Sea scrolls were discovered. These scrolls, which come from a Jewish sect during the time of Jesus called the Essenes, provide the oldest known copies of the Old Testament (Tanakh–×ª× ×™×™×š–) as well as independent corroboration of the cultural context in Jesus' Israel. Amazing. We then hopped on the bus for a 2 hour drive to the Galilee region. We arrived with a few hours of daylight left, so we cooled off and relaxed for a few hours in the sea. Looking forward to a few days in the Galilee region where we'll learn more about the cultural context in which Jesus lived and taught.
Shalom! (שלום)
[Kenny]
And there was evening and there was morning, day four.
(ויהי ערב ויהי בוקר יום שישי)