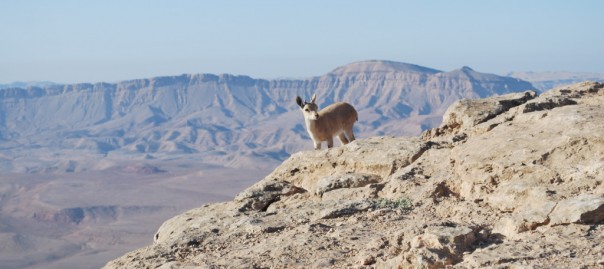 Day 4 – Salvation in the Desert Jun 20
G-d is so good.  We began our day at the Maktesh Ramon, amazed at the grandeur of G-d's creation as we gazed out on a crater-like erosion that took place millions of years ago – a phenomena found only in Israel. Continuing our journey south deep into the Arava desert, we found our way to the desert of Timna, where the oldest copper mines on the face of the earth have been found.  Egypt mined here, as did the Midianites, and ultimately King Solomon.  The Arava desert is also among the locations the Israelites wandered (or did they follow) for forty years.  Begging G-d for cooler weather so that every member of our havurah could comfortably and safely participate in our hike, He blessed us with the most beautiful of days, even providing a breeze every now and again.
After walking in the sandal prints of the ancient Israelites, we spent some time reflecting on the goodness of G-d's gifts found only in the desert and the consistency of G-d to redeem simply because He loves.  He redeemed Israel from Egypt before they came to Sinai, before they had the Torah.  Always a G-d of grace, mercy and indescribable love, His instructions remain good gifts that bring us life, not death, as He sets us free and then summons us to the service of a Great King.
Walking a bit more, we visited a replica of the Tabernacle, grabbed a bit of lunch and proceeded further south to explore the Gulf of Aqaba in the Red Sea.
And there was evening and there was morning, day four.
(ויהי ערב ויהי בוקר יום רְבִיעִי)
Photos from this day