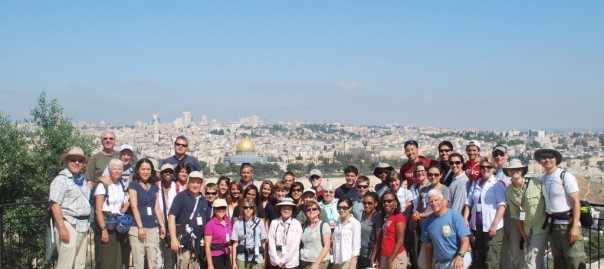 Day 12 – The Last Few Days Jun 30
Our apologies for not keeping up with the blog. We've had some very full days.
Day 9 led us to Gamla (גמלא), the camel shaped city of the zealots where we learned more of the zealot history from Numbers 25 and Mattathias' killing of his own countryman when he saw a Jew go make a sacrifice to idols. We saw Qatzrin (קצרין), a 4th century Talmudic village that gives us a really nice feel for Israelite life. We drove north to Caesarea Philippi, the central place for Pan worship, the "toe-nail" of Mt. Hermon, and perhaps the only site in Israel that has a "gate to Hades," and we re-read Matthew 16 with new insight and understanding to Jesus' teaching on "the rock" and "binding and loosing." From there, we drove north to Dan (דן), and completed our "Dan to Beersheba" trek (technically Beersheba to Dan), and got to see the Canaanite gate, the one that Abraham would have walked through.
Day 10 took us to Sepphoris (Zippori—ציפורי-) a major Greco-Roman city near Nazareth, a likely place where Jesus learned about culture, Hellenism, and a location that may have benefited from Jesus' trade of work, perhaps masonry. From there we took the drive to Mt. Carmel, the location of Elijah's battle with the Baal prophets, and were challenged and invited to enter into the passion of Elijah in our following of Jesus, even when life and people pour water on our fires. Continuing south, we stopped at Caesarea Maritima, and got to see more of the massive building projects of Herod the Great, but more than that, were impressed with Adonai, the great Creator as we tromped through the Mediterranean Sea (many taking notice of the aqueduct, but being more impressed with the God's Creation).
Day 11 and 12 was full of Jerusalem and each hour was packed full of sites from The Church of the Holy Sepulcher, the pool of Bethesda, the church of St. Anne, Cardo, Mount of Olives, the Herodion, Bethelehem (modern city), Israeli checkpoints (quite an experience for us Americans), the Hinnom and Kidron valleys, The Holocaust Memorial Yad VaShem (יד ושם–from Isaiah 56:5), Shevet Achim (www.shevet.org), the Kotel (Western Wall) tunnels, the Southern Steps (likely location of Pentecost), the City of David, Hezekiah's Tunnel, the pool of Siloam (John 9), first-hand ancient coins, and finally, to a resting place where we closed out our trip overlooking the city of Jerusalem from the south. There is too much to write about, and far too much data to even comprehend in this whirlwind that is a 2 day tour of key sites in Jerusalem. What we can say is that we most definitely feel the difference of life in Jerusalem, and the complications of proximity here in this city. And we are charged with the commission to "love God and love people," in the midst of all this.
We have heard word that everyone has made it home safely, and we are most grateful to have spent these last twelve days with you. ברוך השם (bless God) for all that He has done in and through this Study Tour.
Sh'ma and Shalom (שמע ושלום)
And there was evening, and there was morning. Day twelve.
(וי×"י ער×' וי×"י ×'×•×§×¨Â ×™×•×Â ×©× ×™×Â ×¢×©×¨×™)